iBridge has been recognized as a leading provider of IT professionals in Central Europe and has helped numerous businesses find their perfect fit. With a team of more than 300+ highly skilled IT experts and colleagues, we bring together the best engineering talent and wide technological expertise to empower digital transformation while meeting business needs of each customer.
We provide the most technically-capable, tailored talent solutions that will drive your business forward! Although the technical expertise is what delivers the real results, our company culture, which puts the main focus on its people, is what drives everything forward. We pride ourselves on building long-lasting partnerships by understanding the needs, culture, and values of our clients.
We are here to help businesses solve their challenges and create effective solutions. Through our services, iBridge experts continuously contribute to development of modern technologies and innovation.
Our mission is to make a meaningful difference in the lives of our clients by providing excellent customer service and serving our customers to the best of our abilities. Whatever your industry and wherever you are, our experts can provide bespoke service in order to transform your business – making it more efficient, saving you time and cutting costs.
Our people are the key to our success. We believe the only way we can fulfil our vision is by investing in development and support of our employees, or better said colleagues.
Our vision is to create "innovation bridges" connecting people, companies and technologies across continents. And our aim, is to become globally recognised as one of the most trustworthy and well-respected companies to work for and do business with.
Trust
We take pride in building honest and long-lasting relationships with our clients. Your goals are our goals!
Integrity
Ethical behaviour and having strong moral principles throughout our organization are of paramount importance to us.
Transparency
We are straightforward and communicate openly about business matters with all the stakeholders involved.
With our strong business values based on trust, integrity and transparency, there are no surprises or disappointments. Our specialists enjoy solving problems, deliver results fast, and can bring more opportunities and solutions to grow your business.
We're a Global IT Hub
We bring together the biggest talents across the globe, from Czech Republic, Slovakia, Serbia, Morocco, Nigeria, Tunisia and Belarus to name a few, and match them with excellent companies, achieving outstanding results.
30+
IT Consultants and specialists
Vast majority of our specialist are certified and use the latest technologies according to project requirements and our client's needs.
David has many years of experience in managing large e-commerce and IT companies. Prior to establishing iBridgetech, David was the CEO of Aukro.cz, which is the largest online auction platform. He also held executive position as a co-owner and a CEO of NetDirect, a leading e-commerce & IT company.
Before this, he was managing international projects in collaboration with Deloitte and cooperating with Rockaway Blockchain Fund, where he was leading educational programs and processes that support and improve education of university students.
From the very beginning, I have been driven by the idea of establishing a modern IT company which is honest, provides excellent customer service, and is fair to its employees.
Pavla holds a Master's degree in Economics and Industrial engineering from Thomas Bata University, and has 20 years of experience working in finance and business management. She is also a certificated CFE Tax Adviser, by Brussels-based association of European tax advisers.
In her last position, Pavla was the Global Finance manager of the internationally renowned language company, overseeing a broad range of functions in over 10 countries. Effectively, she was responsible for the global finance, accounting, tax, treasury, financial planning and analysis, risk management, and financial control activities of the company.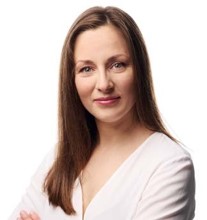 Inesa Ašmantaité
CEO iBridge Lithuania
Inesa is a finance and tech executive with a decade-plus experience in finance, e-commerce technology, pharmaceutical, banking, and consulting industries.
She has worked with PwC's assurance and advisory division, where she worked with several audit and advisory clients and has gained diverse technological and commercial experience by running large international, multi-location projects.
Inesa has a vast experience of working for international companies in different locations and with different cultures. Apart from having a strong entrepreneurial spirit, she has a real-world management experience building startup operations.
Yassine Smila
Business Dev Partner
Zuzana Jakešová
Delivery Manager
Yassine Smila
Business Dev Partner
As a Chief Technology Officer, Yassine Smila oversees company's strategy, digital solutions and implementation of our technological needs. He is also responsible for managing our research and development (R&D) department.
Yassine joined iBridgeTech in 2021, and prior to this has served more than 9 years in numerous key leadership roles in IT field, and other industries around the globe (France, Belgium, Czech Republic, USA & Morocco).
Aside from this, Yassine's mission at iBridgeTech is to lead the execution of our ambitious development plans, together with our senior engineering team with wide technological expertise and deliver value to our clients.
To Whom We Provided Services
Our Personal Experiences